Drama Films are serious presentations or stories with settings or life situations that portray realistic characters in conflict with either themselves, others, or forces of nature. A dramatic film shows us human beings at their best, their worst, and everything in-between. Each of the types of subject-matter themes have various kinds of dramatic plots. Dramatic films are probably the largest film genre because they include a broad spectrum of films. See also crime films, courtroom dramas, melodramas, epics (historical dramas), biopics (biographical), or romantic genres - just some of the other genres that have developed from the dramatic genre.

Dramatic themes often include current issues, societal ills, and problems, concerns or injustices, such as racial prejudice, religious intolerance (such as anti-Semitism), drug addiction, poverty, political unrest, the corruption of power, alcoholism, class divisions, sexual inequality, mental illness, corrupt societal institutions, violence toward women or other explosive issues of the times. These films have successfully drawn attention to the issues by taking advantage of the topical interest of the subject. Although dramatic films have often dealt frankly and realistically with social problems, the tendency has been for Hollywood, especially during earlier times of censorship, to exonerate society and institutions and to blame problems on an individual, who more often than not, would be punished for his/her transgressions.

Social Problem Dramas: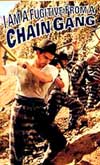 Social dramas or "message films" expressed powerful lessons, such as the harsh conditions of Southern prison systems in Hell's Highway (1932) and I Am a Fugitive From a Chain Gang (1932), the plight of wandering groups of young boys on freight cars during the Depression in William Wellman's Wild Boys of the Road (1933), or the lawlessness of mob rule in Fritz Lang's Fury (1936), or the resourcefulness of lifer prisoner and bird expert Robert Stroud (Burt Lancaster) in John Frankenheimer's Birdman of Alcatraz (1961), or the tale of a framed, unjustly imprisoned journalist (James Cagney) in Each Dawn I Die (1939). In Yield to the Night (1956), Diana Dors relived her life and crime as she awaited her execution. A tough, uncompromising look at New York waterfront corruption was found in the classic American film, director Elia Kazan's On the Waterfront (1954) with Marlon Brando as a longshoreman who testified to the Waterfront Crimes Commission. The film drew criticism with the accusation that it appeared to justify Kazan's informant role before the HUAC.
Problems of the poor and dispossessed have often been the themes of the great films, including The Good Earth (1937) with Chinese peasants facing famine, storms, and locusts, and John Ford's The Grapes of Wrath (1940) about an indomitable, Depression-Era Okie family - the Joads - who survived a tragic journey from Oklahoma to California. Martin Scorsese's disturbing and violent Taxi Driver (1976) told of the despairing life of a lone New York taxi cab driver amidst nighttime urban sprawl. Issues and conflicts within a suburban family were showcased in director Sam Mendes' Best Picture-winning American Beauty (1999), as were problems with addiction in Steven Soderbergh's Traffic (2000).
Films About Mental Illness: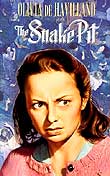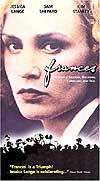 Two films from different eras that dealt with the problems of the mentally ill and conditions in mental institutions were Anatole Litvak's The Snake Pit (1948) with tormented Olivia de Havilland's assistance from a psychiatrist, and Milos Forman's adaptation of Ken Kesey's One Flew Over the Cuckoo's Nest (1975) with Jack Nicholson as a rebellious institutional patient who feigned insanity but ultimately was squashed by Nurse Ratched and the repressive system.
Bette Davis played a neurotic and domineering woman in John Huston's In This Our Life (1942). Sam Wood's Kings Row (1942) examined the various fears and phobias in a small-town. Repressed and prohibited from consummating her love with Warren Beatty, Natalie Wood exhibited signs of insanity in Elia Kazan's Splendor in the Grass (1961). Another teenager (Kathleen Quinlan) felt suicidal tendencies due to schizophrenia in I Never Promised You a Rose Garden (1977). And 1930s-40s actress Frances Farmer (Jessica Lange) tragically declined due to a mental breakdown and subsequent lobotomy in Frances (1982). The repressed emotions and tragic crises in a seemingly perfect family were documented in Robert Redford's directorial debut Best Picture and Best Director-winning Ordinary People (1980).
Films About Alcoholism:
A hard look was taken at alcoholism with Ray Milland as a depressed writer in Billy Wilder's The Lost Weekend (1945) and Jack Lemmon (and Lee Remick) in Blake Edwards' Days of Wine and Roses (1962). An aging alcoholic singer (Bing Crosby) desperate for a comeback was the theme of The Country Girl (1954) - the film that provided Grace Kelly with a Best Actress Oscar. Susan Hayward acted the decline into alcoholism of 1930s star Lillian Roth in Daniel Mann's biopic I'll Cry Tomorrow (1955). More recently, Mickey Rourke and Faye Dunaway played the parts of two fellow alcoholics in Barbet Schroeder's Barfly (1987).
Films about Disaffected Youth and Generational Conflict:
Juvenile delinquency, young punks and gangs, and youth rebellion were the subject matter of Dead End (1937), Laslo Benedek's The Wild One (1953) with biker Marlon Brando disrupting a small town, Richard Brooks' The Blackboard Jungle (1955) with Glenn Ford as an idealistic teacher in a slum area school, and Nicholas Ray's Rebel Without a Cause (1955) with James Dean as an iconic disaffected youth.
Race Relations and Civil Rights Dramas: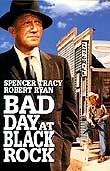 Films that were concerned with race relations included Hollywood's first major indictment of racism in producer Stanley Kramer's and director Mark Robson's Home of the Brave (1949), the story of a black WWII soldier facing bigoted insults from his squad. Then, there was John Sturges' Bad Day At Black Rock (1955) about small-town Japanese-American prejudice uncovered by a one-armed Spencer Tracy, Stanley Kramer's The Defiant Ones (1958) with Tony Curtis and Sidney Poitier as bound-together escaping convicts - and Guess Who's Coming to Dinner (1967) about an inter-racial couple (Sidney Poitier as WHO doctor John Prentiss and Katharine Houghton as SF socialite Joanna Drayton) planning on marrying who needed parental approval from Katharine Hepburn and Spencer Tracy (in their ninth and last film together). Also, In the Heat of the Night (1967) featured a bigoted sheriff and a black homicide detective working together to solve a murder, and Spike Lee's Do the Right Thing (1989) - about racial tensions and eventual violence during a hot Brooklyn summer.
Strong indictments toward anti-Semitism were made in Elia Kazan's Gentleman's Agreement (1947) with writer Gregory Peck posing as a Jew, and Crossfire (1947) about the mysterious murder of a Jew. The Japanese film classic from Akira Kurosawa titled Rashomon (1950, Jp.) examined a violent ambush, murder and rape in 12th century Japan from four different perspectives.
Courtroom Dramas:
See Filmsite's major analysis of Greatest Courtroom Dramas. (See also AFI's 10 Top 10 - The Top 10 Courtroom Drama Films). Courtroom legal dramas, which include dramatic tension in the courtroom setting, maneuverings between trial opponents (lawyers, prosecutors, and clients), surprise witnesses, and the psychological breakdown of key participants, were exemplified in films such as the following:
William Dieterle's film noir The Accused (1949), with Robert Cummings defending college professor Loretta Young's self-defense murder
12 Angry Men (1957) with Henry Fonda and eleven other jurists in a tense deliberation room
Billy Wilder's intriguing and plot-twisting Witness for the Prosecution (1957) based on an Agatha Christie play
Otto Preminger's Anatomy of a Murder (1959) with James Stewart as a defense lawyer for accused murderer Ben Gazzara
Richard Fleischer's Compulsion (1959) in which two brilliant law students kidnapped and murdered a child - but were saved from hanging by a brilliant closing argument by their attorney Jonathan Wilk (Orson Welles)
the Navy court-martial trial based on the Herman Wouk play of the same name in The Caine Mutiny (1954) - a film with a memorable performance of Humphrey Bogart as paranoid Captain Queeg
the historic 1925 Scopes Monkey Trial battle in Inherit the Wind (1960) pitting Spencer Tracy against Fredric March in a test case brought against a schoolteacher for teaching evolution
the social drama regarding the Nazi war crimes trials in Judgment at Nuremberg (1961) with Burt Lancaster as a Nazi judge defended by Nazi defense attorney Maximilian Schell in a 1948 court ruled by Chief Allied Judge Spencer Tracy
the defense case of a black accused of rape in To Kill a Mockingbird (1962), adapted from the Pulitzer-Prize winning novel by Harper Lee about civil rights
In addition, director Robert Benton's Best Picture-winning Kramer vs. Kramer (1979) focused on the subject of a nurturing father (Dustin Hoffman) trying to win a child custody case with divorced Meryl Streep. An Australian film, Breaker Morant (1980, Australia) was another tense courtroom drama - the true story of soldiers in the Boer War who were used as scapegoats by the British Army. The award-winning drama, Sidney Lumet's The Verdict (1982) featured Paul Newman as an alcoholic, has-been Boston lawyer fighting a case of medical malpractice against James Mason. Glenn Close defended lover/client Jeff Bridges in Richard Marquand's who-dun-it Jagged Edge (1985). Assistant DA Kelly McGillis defended the bar-room gang-raped Jodie Foster (an Oscar-winning role) in The Accused (1988).
A Soldier's Story (1984) examined racial hatred in a 1940s Southern military post in a dramatic courtroom murder/mystery. And A Few Good Men (1992) portrayed the courtroom conflict (known for its catchphrase: "You can't handle the truth!") between established Marine Colonel Jessup (Jack Nicholson) and two young Naval attorneys (Tom Cruise and Demi Moore) regarding the circumstances surrounding the hazing ("Code Red") death (by asphyxiation due to acute lactic acidosis) of Private Santiago - a Marine stationed at Guantanamo Naval Air Station in Cuba. Jonathan Demme's AIDS drama, Philadelphia (1993) examined discrimination against AIDS and the legal defense of an AIDS sufferer (Tom Hanks) who was fired.
Political Dramas: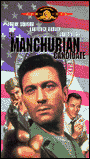 Political dramas include Frank Capra's two political tales - State of the Union (1948) with Tracy/Hepburn (in their 5th of nine films), and his classic story of a naive Senator's fight against political corruption in Mr. Smith Goes to Washington (1939). Alexander Knox starred as President Woodrow Wilson in Henry King's epic, big budget bio Wilson (1944). In Otto Preminger's Advise and Consent (1962), stars Charles Laughton (in his last film), Franchot Tone, and Lew Ayres portrayed scheming Senators during Henry Fonda's crisis-threatened Presidency. The controversial The Manchurian Candidate (1962) questioned the Cold War brainwashing of a Korean War hero.
The award-winning, potent story of a corrupt politician was dramatized in Robert Rossen's All the King's Men (1949) with Broderick Crawford as rising governor Willie Stark - a cynical version of real-life 1930s ruthless Louisiana governor Huey P. Long. Michael Ritchie's The Candidate (1972) examined the harsh reality of marketing a candidate on the campaign trail. Robert Redford starred as left-wing California lawyer Bill McKay, a political Senate hopeful cluelessly running for office. In the final scene with campaign manager Marvin Lucas (Peter Boyle), McKay asked: "What do we do now?"
There were a number of excellent political dramas in the 1990s - in which, ironically, art very often imitated life (political satires often were playing in tandem with the Monica Lewinsky Scandal). The mockumentary (and political satire) Bob Roberts (1992) (with the tagline: "VOTE NOW, ASK QUESTIONS LATER") starred director/producer/actor Tim Robbins on the campaign trail as the title character running for the US Senate in Pennsylvania - he was a rising political star who was originally a celebrity (a conservative folksinger). Underneath the right-wing candidate's folksy demeanor and positive veneer was a dirty and fraudulent campaign against aging liberal incumbent competitor Brickley Paiste (Gore Vidal), in which Roberts displayed dark shades of corruption, contempt and cynicism.
Aaron Sorkin's drama The American President (1995) starred Michael Douglas as widowed Democratic President Andrew Shepherd, who became romantically involved in a complicated relationship with environmental lobbyist and activist Sydney Ellen Wade (Annette Bening), who was sponsoring a controversial environmental bill. Subsequently, Shepherd became the target of attacks from Republican presidential hopeful Senator Bob Rumson (Richard Dreyfuss) during the crucial passage of his crime control bill, and her climate bill.
In director Barry Levinson's Wag the Dog (1997), another black political satire, two White House advisors: spin-doctor Conrad Brean (Robert De Niro) and Winifred Ames (Anne Heche), recruited Hollywood film producer Stanley Motss (Dustin Hoffman) to create a diversionary fake foreign war in Albania, to distract the public from a West Wing sex abuse scandal involving the President (Michael Belson). [Note: The film provided tangential commentary on President Clinton's Lewinsky Scandal, and the subsequent bombing of a drug factory in the Sudan.]
Director Mike Nichols' Primary Colors (1998) (with the tagline "HE WAS BORN TO RUN"), a comedic drama about the political process, starred John Travolta and Emma Thompson as fictional characters - although they clearly represented the Clintons during Bill's first presidential campaign in 1992. Travolta took the role of philandering, drawling, and ruthless Southern Democratic Governor Jack Stanton in the running for President, while Thompson portrayed his intelligent wife Susan, and Billy Bob Thornton was redneck political advisor Richard Jemmons (representing Clinton's campaign manager James Carville) during a dirty-tricks campaign to hide Stanton's past sexual and political indiscretions.
Bulworth (1998), a political satire-comedy, starred Warren Beatty as depressed and suicidal Democratic California Senator Jay Billington Bulworth, who transformed himself after many years of being PC and following conservative ideals. During a primary campaign for the Presidency, with a $10 million life insurance policy on himself, and an arranged assassination plot targeting himself, he began to speak the alarming "truth' with frank talk and aggressive remarks - and suddenly found himself re-energized. In writer/director Rod Lurie's The Contender (2000), Joan Allen starred as Ohio Democratic Senator Laine Hanson, the assailed VP appointee of President Jackson Evans (Jeff Bridges), who faced sexist scandal-mongering (about her past) during her political selection process, mostly from Illinois Republican Congressman Sheldon "Shelly" Runyon (Gary Oldman).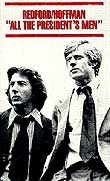 Journalism, the Press and Media-Related Dramas: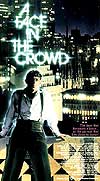 Dramatic films often center around the theme of journalism, the world of reporters and news. Often regarded as the best film ever made, Orson Welles' Citizen Kane (1941) was an insightful character study of a self-made newspaper magnate who ran for office. Alan J. Pakula's All the President's Men (1976) was a docu-drama of real-life journalists Bernstein and Woodward investigating the Watergate scandal in the 1970s. Sidney Lumet's Network (1976) with Peter Finch as a despairing newsman was a critical look at TV news, while Sydney Pollack's Absence of Malice (1981) told about an over-earnest journalist (Sally Field) and a wrongly-implicated defendant (Paul Newman). James L. Brooks' Broadcast News (1987) focused on the world of network news shows, editors, and reporters. Oliver Stone's conspiracy-centered drama, JFK (1991), attempted to disprove the theory that President Kennedy's killer acted alone.
Elia Kazan's A Face in the Crowd (1957) showed how a down-home country boy (Andy Griffith in his film debut as Larry "Lonesome" Rhodes) could be transformed into a pop television show icon and political megalomaniac.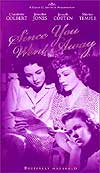 Through the eyes of a cameraman, Haskell Wexler's docu-drama Medium Cool (1969) covered the corruption and events surrounding Chicago's 1968 Democratic Convention. In Peter Weir's The Year of Living Dangerously (1982, Australia/US), Mel Gibson played the role of an Australian journalist working during the time of President Sukarno's coup in mid-60s Indonesia. And in Oliver Stone's Salvador (1982), James Woods played the role of a photographer in war-torn El Salvador.
WWII Homefront Dramas:
Dramatic films which have portrayed the "homefront" during times of war, and the subsequent problems of peacetime adjustment include William Wyler's Mrs. Miniver (1942) about a separated middle-class family couple (Greer Garson and Walter Pidgeon) during the Blitz, Clarence Brown's The Human Comedy (1943) with telegram delivery boy Mickey Rooney bringing news from the front to small-town GI families back home, John Cromwell's Since You Went Away (1944) with head of family Claudette Colbert during her husband's absence, and another William Wyler poignant classic The Best Years of Our Lives (1946) with couples awkwardly brought back together forever changed after the war: Dana Andrews and Virginia Mayo, Fredric March and Myrna Loy, and Harold Russell and Cathy O'Donnell.