About Filmsite:
Filmsite - also known as Greatest Films (http://www.filmsite.org/ and http://www.greatestfilms.org/) is a unique website containing interpretive, descriptive review commentary and background history on many of the best Hollywood and American classic films in the last century. The site initiated the recent trend to select 100 Landmark Movies in the history of American/Hollywood cinema, that serve as signposts to map the milestones of our cinematic past.
Tim Dirks created the popular filmsite.org website, aka Greatest Films, in mid-1996 and he has been writing about and reviewing films ever since. The site celebrated its landmark 27th anniversary in 2023. Tim originated Filmsite and has remained its sole contributor, manager, and editor - he adds significant content to the site spanning all the years of cinematic history, often writes blogs and other film-related articles, and has engaged in a number of on-camera interviews about film. Wikipedia has called the site "an introduction to cinematic literacy," and CultureSonar referred to the site as "A One-Man IMDb."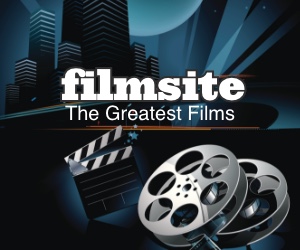 The site includes rich reference material including Academy Awards history, film genres, film terms, film history by decade, trivia, and lots of lists of 'best' films, stars, scenes, quotes, resources, posters, etc. Some of the site's most popular pages include:
100 Greatest Films - thoroughly described with Criteria for Selection
Other Compiled Greatest Films Lists - from multiple sources
The Best Of... - Tearjerkers, Best Film Kisses, Deaths, Scariest, Film Spoilers, Entrances, Funniest, Musical Moments, Disasters, Chases, Zombie Films, Greatest Courtroom Dramas, etc. (all illustrated)
Academy Awards Winners (Oscars History, Facts & Trivia) - by year (with Best Pictures posters for each year)
Greatest Film Star Roles and Legends - with filmographies
Complete Study of Film Genres - westerns, musicals, etc., with recommended films to view by genre
Comprehensive Film History with Milestones - by decade and individual year (illustrated)
All-Time Box-Office 100 Hits - domestic (adjusted and unadjusted for inflation), and worldwide
Most Famous Movie Moments and Scenes - extensively described and illustrated
Greatest Directors of All-Time - with filmographies
The Most Controversial Films of All-Time (illustrated)
The History of Sex in Cinema (illustrated)
Films, also known as movies, motion pictures, flicks, the pictures, and the cinema, are undoubtedly the most influential art form of the 20th century. From the early days of Hollywood to the high-tech cinema of today, the silver screen has projected our dreams and fantasies, presented both glamour and works of social conscience, and served as our collective memory.

'Greatest Films' Lists - The Best:
The English-language films chosen here repeatedly appear on all-time best film lists - arguably, there is reasonable consensus by most film historians, critics and reviewers that they are among cinema's most critically-acclaimed, significant "must-see" films (of predominantly Hollywood-American output, although there are other English-language films included). Access this site's "Greatest Films" Lists, that first highlights 100 films (in unranked, alphabetical order) which have left an indelible mark on our century's culture and have been part of our lives for over a century. You may be interested in Tips on Viewing Films Critically provided by the site's author.
"Greatest Films" Lists

100 Greatest Films includes film selections that have undoubtedly left an indelible mark upon our lives and reflect the defining moments of the last 100 years - they are films that have given us pieces of time we can never forget. Detailed analysis and synopses for each of the Greatest Films include memorable movie quotes and lines of dialogue, and great moments or scenes.

Another 100 Greatest Films supplements the original list because it was almost impossible to be limited to only 100 Greatest Films.
Third 100 Greatest Films adds an additional selection of 100 more films, to make a total of 300 Greatest Films for consideration.
200 and 300 Greatest Films combines all lists of predominantly American-Hollywood films (and other English-language films), and presents them in chronological (and) alphabetical order.

Other "Greatest" Lists provide a basis of comparison

Highly Recommended Site:
Filmsite.org is prominently displayed as one of the main reviewers/critics and sources of film material for hundreds of films in the Internet Movie Database (under "External Reviews" for specific titles), the Movie Review Query Engine, and Rotten Tomatoes.

Film critic Roger Ebert twice voted the site as one of the top 20 movie sites on the Web in Yahoo! Internet Life Magazine (Jan. '98 and June '99) (see all of Ebert's honors and references to filmsite.org), and Ebert has also referenced this site's reviews on Notorious and Red River and other films in his 2002 book - The Great Movies, and on his Chicago Sun-Times website on The Great Movies. Ebert has also corresponded with the site's author on questions/answers that he incorporated into his "Answer Man" column.

The site has been reviewed very favorably by a number of Web magazines, sites or books (see this site's References section), and the author has been quoted in numerous sources for DVD commentary, AP press releases, radio broadcasts, magazine articles, etc. According to the Encyclopedia Britannica, this site has a "rich collection of commentary and information about masterpieces of American cinema." In mid-2003, Variety featured the site in an article titled: "Filmsite has unique spin on top pix." Filmsite.org was voted in October, 2007 by the popular movie magazine Fade In (both virtual and online) as one of the "100 Coolest Film Sites on the Net" with "every conceivable 'best of' list for film".

Comments From Visitors & Reviewers:
- "I was just reading your analysis/review of Sunset Boulevard on Filmsite.org and it struck me how long I have been enjoying your work and how incredibly comprehensive and voluminous your written output is. It is amazing to me how you can produce such volumes of work with such high quality and thoughtful insights. I know you do it because you love it and you love films, but I still want to thank you for providing this wonderful and most enjoyable resource to filmgoers."

- "An excellent overview of classic Hollywood films."

- "I just wanted to express my awe and appreciation by saying what an excellent website you've created for us all. Vastly knowledgeable in the century plus years of the art, craft, and techniques of Cinema history and entertaining at the same time. Keep doing what you're doing because it seems to be working. Thank you."

- " I've enjoyed and extensively referred to your site for years....above all else, a shout out to you and all your fantastic work on your site. It's an indispensable trove."

- "The Greatest Films is an encyclopedic, enthusiastic history of American film."

- "One of the better amateur sites on its topic."

- "Excellent for hunting down the perfect rental."

- "A virtual treasure trove of cinema goodies."

- "A real find for film buffs of all persuasions."

- "I really love to read your movie summaries."

- "It truly is a wonderfully in-depth and detailed place not only interesting to browse through, but, being a teacher of media/film, academically worthwhile." The links and additional information you provide is also first class. Keep up the good work and keep adding to the site."

- "I'm studying American film and this site is one of my main resources!!

- "Any site with Roger Ebert's endorsement has got to be bookmarked!"

- "Your compilation is extraordinary. Anyone who can coherently relate the plot of 'The Big Sleep' or 'Bringing Up Baby' deserves the highest esteem. I'm a New York screenwriter and actor, and find myself copying sections of dialogue and e-mailing them to my LA colleagues with the question, 'All right, film and director? What year?' Keep up the great work!"

- "The site offers many ways of looking at important films, but the centerpiece is his series of 100 long reviews of classics, including downloadable still photos, highly extensive plot summaries, and a lot of quotes... This site is useful for film students or others seeking an entry point into film history. He has essays on genres, periods and types of movies, and suggested titles in each area, and his sheer love for the movies comes across in his accuracy and energy." (Roger Ebert)

- " I taught film, as well as film and literature, courses for 40 years, and during the last ten I always referred my students to filmsite.org ahead of any other internet site dealing with movies. Young people, needless to say, have a strong bias on behalf of the contemporary, or the present tense and an equally strong antipathy toward "old" movies, black and white movies (Roger Ebert is quite strong about the superior "art" of shooting in black and white), movies "long" on dialog (however sparkling) and short on production values (hence, "The Maltese Falcon," "His Girl Friday," even most Marx Brothers films do poorly when left to the judgment of impatient teenagers and 20-21-year olds. And of course silent movies practically don't even count (I have even had to defend "Birth of a Nation" to politically correct academics who could not see beyond their own calcified ideologies). And, despite adult assumptions, I've discovered that young people don't know much if anything about Charlie Chaplin (and if they do, they've never seen a Chaplin film--and, more often than not, the same turns out to be true for a Marx Brothers, Astaire or Bogart movie). The point is that your site has always offered a "validation" I could turn to for support. I've even printed out some of the ratings as the basis for "must see" films and extra-credit projects, using it most recently when I taught a course in "cult films.""

Visitor and Traffic Statistics:
Filmsite's Stats According to Similarweb.com (as of January 2023):
Global Rank: # 136,467 Worldwide
Country Rank: # 55,303 United States
Category Rank: # 1,418 Arts and Entertainment
Visitor and Site Statistics:

There have been many millions and millions of visitors to the site since its inception (May 30, 1996).
Filmsite is composed of almost 106,000 files (approx 4,850 .html web pages).
The pages are also semi-optimized for mobile phone usage, although desktop visitors will find the pages more accessible.
Google Analytics: Traffic Statistics

The Year 2021

Page Views: 7,782,703
Unique Page Views: 6,490,290
Sessions: 3,674,285
Pages per Session: 2.12
New Visitors: 90.5%
Returning Visitors: 9.5%
Number of Users: 3,010,530
New Users: 2,999,059
Average Session Duration: 2:09
Average Time on Page: 1:56
Bounce Rate: 72.67%

Google Analytics: Traffic Statistics

The Year 2022

Page Views: 7,637,613
Unique Page Views: 6,432,698
Sessions: 4,034,957
Pages per Session: 1.89
New Visitors: 90.4%
Returning Visitors: 9.6%
Number of Users: 3,325,673
New Users: 3,335,089
Average Session Duration: 1:52
Average Time on Page: 2:06
Bounce Rate: 75.49%

Filmsite.org According to Ubersuggest.com (in Early 2023)

Organic Monthly Traffic: 1,113,353
Organic Keywords: 424,021
Domain Authority: 68/100
Backlinks: 1,488,651
Referring Domains: 29,486
Site Visitors:
Everyone interested in film in some way visits this site - seniors and the young, the student and the casual observer, film buffs from throughout the world - screenwriters, film reviewers, film studies students, persons looking for a particular quote or fact about a film, film poster enthusiasts, or visitors who want to experience a film again by reading the detailed, lengthy synopses of each of the films. With the amount of resources, it literally would take many repeat visits to see all areas of the filmsite.
Top Referring Sites to Filmsite:
The majority of visitors to the site arrive through Organic SEARCH. There are 29,486 unique domains referring (or linking back) to this website, according to www.ubersuggest.com. The top two referring sites to Filmsite are:
Sites Also Visited By Filmsite Visitors:
The following 10 sites were also frequently visited by Filmsite visitors, or considered similar and competitive, with the same audience:
www.allmovie.com
www.afi.com
www.imdb.com
www.films101.com
www.mrqe.com
www.rottentomatoes.com
www.brightlightsfilm.com
www.rogerebert.com
www.boxofficemojo.com
www.movieweb.com
Others included www.britannica.com, www.fandom.com, and www.tcm.com.
Most Frequent Search Terms:
The following were popular search terms used by Filmsite visitors:
top movie quotes
film genre (or movie genres)
movies, or popular movies, or blockbuster movies
afi top 100
oscars, academy awards for ...
most popular movies (of all time)
top 100 movies of all time
erotic movies, hollywood sexy

Contacting Filmsite:
If you have any questions about Filmsite, you may contact:

Tim Dirks, Email to: