Melodrama Films are a sub-type of drama films, characterized by a plot to appeal to the heightened emotions of the audience. Melodrama, a combination of drama and melos (music), literally means "play with music." The themes of dramas, the oldest literary and stage art form, were exaggerated within melodramas, and the liberal use of music often enhanced their emotional plots. Often, film studies criticism used the term 'melodrama' pejoratively to connote an unrealistic, pathos-filled, campy tale of romance or domestic situations with stereotypical characters (often including a central female character) that would directly appeal to feminine audiences. The sub-genre is typically looked down upon by critics and elitists.
There are many names for melodramatic films - 'women's pictures', 'weepies', tearjerkers, soap operas (or soapers), and more recently, 'chick flicks'. O Magazine compiled their 50 Greatest Chick Flicks in their July 2004 issue.). See Filmsite's own Memorable and Great "Chick Flicks."
Pure melodramas reached their pinnacle in the films of the 50s by director Douglas Sirk. See also this site's extensive, illustrated compilation: Greatest Tearjerker Films, Moments and Scenes. (Entertainment Weekly's November 28, 2003 issue listed their choices for the Top 50 Greatest Tearjerkers: each one "involves a terminally ill loved one, or an impossible love, or a giant robot that dies for our sins.") However, not all melodramas are tearjerkers, but more like heightened dramas.
Melodramatic plots with heart-tugging (literally tear-jerking), emotional plots (requiring multiple hankies) usually emphasize sensational situations or crises of human emotion, failed romance or friendship, strained familial situations, tragedy, illness, loss (the death of a child or spouse), neuroses, or emotional and physical hardships within everyday life. Victims, couples, virtuous and heroic characters or suffering protagonists (usually heroines) in melodramas are presented with tremendous social pressures, threats, repression, fears, improbable events or difficulties with friends, community, work, lovers, or family. The melodramatic format allows the character(s) to work through their difficulties or surmount the problems with resolute endurance, sacrificial acts, and steadfast bravery.
Melodramas were the prime form of dramas until they were overtaken by straight-forward, realistic dramatic forms in the 50s and afterwards, although they continue to occasionally appear into the present. Even today, horror films, adventure pictures, war movies, thriller films, and even westerns (such as Fred Zinnemann's psychological western High Noon (1952) and Delmer Daves' 3:10 to Yuma (1957)) are described as melodramatic.
Directors that have often been associated with melodramas include the following:
Frank Borzage - his definitive works being Man's Castle (1933), The Mortal Storm (1940), and Moonrise (1948); also Borzage's romantic melodramas including: Seventh Heaven (1927) and Street Angel (1928) - both with Charles Farrell and Janet Gaynor


George Cukor - a legendary 'women's director'; noted for The Women (1939) - a melodramatic comedy based on the hit play by Clare Boothe Luce with an all-female cast (Norma Shearer, Joan Crawford, Rosalind Russell, Mary Boland, Paulette Goddard, and Joan Fontaine, among others) - a group of catty, back-biting, competitive, and richly-spoiled high-society women, although its tagline tauts: "It's All About Men!"; while seeking divorces in Reno, women learn of other affairs and infidelities and are forced to make tough decisions


Max Ophuls - known for his German film Liebelei (1933, Germany) about a tragic love, the melodramatic noir Caught (1949), and for the quintessential Letter From an Unknown Woman (1948) - a classic tale of unrequited love


Douglas Sirk - with 50's classics including All That Heaven Allows (1955), Written on the Wind (1956), and Imitation of Life (1959)


Vincente Minnelli - examples include The Bad and the Beautiful (1952), the slow-burning character study Some Came Running (1958) with Frank Sinatra in the lead role as a returning soldier to a Midwestern Indiana town, and the soapy romantic drama The Sandpiper (1965) starring Elizabeth Taylor and Richard Burton
Early Melodramas: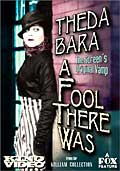 Tragically-realistic films were a big part of the silent film era - the silents naturally lent themselves to melodrama. The only means by which an actor or actress could communicate meaning and feelings was through facial expressions and gestures. One of the earliest melodramas was director Frank Powell's silent film (based upon a stage play) titled A Fool There Was (1915), with Theda Bara (in her star-making film debut) cast as an evil, dark, wicked and mysterious vampire who seductively lures a weak-willed family man away and controls his heart with her sexy wiles.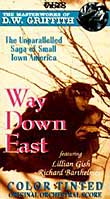 The master of silent melodramas was director D. W. Griffith, who featured the innocent heroine Lillian Gish in many of his films, such as True Heart Susie (1919), with Gish as a long-suffering plain country girl who painfully sacrifices herself for her neighbor boy-lover - who eventually marries someone else. In Broken Blossoms (1919), she portrayed a fragile and waif-like daughter of an abusive prizefighter. Further Griffith films included the melodramatic epic of the French Revolution Orphans of the Storm (1922) and of World War I Hearts of the World (1918). In Way Down East (1920) Gish starred as a naive and wronged woman after being seduced, made pregnant, and abandoned. Small-town prejudice sends Gish into a death-threatening blizzard and entrapment on an ice floe. King Vidor's WWI epic The Big Parade (1925) featured melodrama within the romantic subplot between a French girl (Renee Adoree) and an American doughboy (John Gilbert). One of the earliest, most influential romantic melodramas of the era was the classic silent masterpiece from F. W. Murnau titled Sunrise (1927). Another was director Erich von Stroheim's silent masterpiece Greed (1924) - a marital drama about an avaricious couple.
Fannie Hurst's best-selling, tear-jerking novel of an ill-fated romance and sacrificial love was remade numerous times: John Stahl's Back Street (1932) with Irene Dunne and John Boles, Robert Stevenson's Back Street (1941) with Charles Boyer and Margaret Sullavan, and David Miller's Back Street (1961) with Susan Hayward and John Gavin.
Melodramatic Tales of Fallen and Liberated Women:
Before the Production Code Administration in 1934 clamped down with strict censorship codes, Hollywood produced a number of frank and sordid melodramas featuring tough, sinful, bawdy, naughty and fallen women, pleasure-loving golddiggers, prostitutes and ruthless divorcees - some of whom were repaid for their sinfulness and indiscretions by rejection, drug-addiction, death, or anonymity. The silent Madame X (1920) was one of the first of such films - in which a woman (Pauline Frederick) was separated from her legitimate child, and then defended by her unknowing, grown-up son when wrongly accused of murder.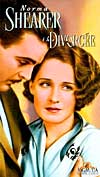 Norma Shearer won the Best Actress Oscar for MGM's The Divorcee (1930) as a recent divorcee who finds revenge on her faithless husband by becoming a philanderer herself. Cecil B. DeMille directed the outrageous Madam Satan (1930) about a wealthy socialite (Kay Johnson) who pretends to be a sultry French vamp in order to seduce her own husband away from his mistress. (The film featured an infamous debauchery scene - a masquerade costume ball aboard a zeppelin dirigible above New York harbor.)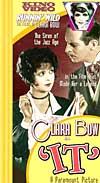 Gloria Swanson (in Manhandled (1924), and in Sadie Thompson (1928) as a fallen woman of loose morals), and liberated sexy screen siren Clara Bow (in My Lady of Whims (1925), Mantrap (1926), Dancing Mothers (1926), the star-making light comedy It (1927) ("It" means sex appeal), and Hula (1928)) emerged as the newest stars of melodramatic pictures in the 20s. Liberated females (society women, stenographers, actress/starlets) were the main characters in pre-code melodramatic soap operas, including MGM's pre-censorship era Three On A Match (1932) featuring three girlhood friends - a working girl stenographer (Bette Davis), a bored society dame and rich man's wife (Ann Dvorak) and a jaded showgirl/actress with a gangster boyfriend (Joan Blondell), and What Price Hollywood? (1932) with Constance Bennett as an aspiring young Hollywood starlet (later remade three times as A Star is Born in 1937 (with Janet Gaynor), 1954 (with Judy Garland), and 1976).
One of the only female Hollywood directors in the 1930s was Dorothy Arzner, who made Katharine Hepburn's second film, giving the actress her first starring role in Christopher Strong (1933), a tale of a daring female aviator who fell in love with a married British statesman. Margaret Sullavan starred in her first role as an unwed mother (with an unknowing father) in Only Yesterday (1933).
In Chinese cinema, one of the best "fallen woman" melodramas was director Wu Yonggang's (his debut film) silent melodrama The Goddess (1934, China) (aka Shen nu), about social injustice and maternal sacrifice - a tragic tale about the hard-times of a 1930s Shanghai, China prostitute (a "fallen woman") known only as 'The Goddess' (Ruan Ling-Yu). The single mother-streetwalker was raising her son in the hellish and foul city (in the midst of a civil war). [Note: Stanley Kwan's biopic Center Stage (1991, HK) (aka The Actress, or Ruan Lingyu) was the life story of Ruan Ling-Yu, portrayed by Maggie Cheung.]
By 1934, explicit tales of fallen women involved in dangerous or disastrous relationships with men came to be banned or rigorously censored by the Production Code censors.
The 30s "Weepies":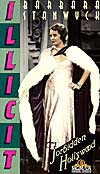 Hollywood cranked out women's pictures (or 'weepies' as they came to be known, or are now known as "chick flicks") with excessive emotional fervor in the 1930s and after. In part because they contained few strong male characters and matinee idols suitable for swooning, they were films created for the female segment of the audience. Producers thought women would be more interested than men in relationships, love, and marriage, thereby escaping from their own problems, and empathizing (and weeping) with the on-screen sufferings of strong female protagonists. Female audiences would be attracted to plot lines that included doomed love affairs, infidelity, unrequited love, various family crises, or marital separation. The protagonists of women's films would often overcome stereotypical gender roles, and the films would examine the strong achievements of these characters.
Five female actresses were known for their redefinition of feminine roles in the 1930s (both pre- and post- code):
BARBARA STANWYCK: appearing as a shrewd, tough-minded, often amoral and wisecracking woman, in Frank Capra's Ladies of Leisure (1930) as a gold-digger, in William Wellman's sordid pre-code Night Nurse (1931) with several scenes of undressing, in the hit Illicit (1931) as a free-spirited, co-habitating adventuress, in Frank Capra's Forbidden (1932) as a liberated heroine, in Shopworn (1932), in Warner Bros.' prison drama Ladies They Talk About (1933) as a tough-talking, imprisoned gangster's moll, in the risque Baby Face (1933) as a street-wise dame who uses men to climb to the top of the corporate ladder, and in Warner Bros.' Gambling Lady (1934) - films now marketed as "Forbidden Hollywood"


MARLENE DIETRICH: often appearing as an exotically-perverse, sensual, sometimes androgynous, and seductive character, as a cabaret singer in The Blue Angel (1930), Morocco (1930) and Blonde Venus (1932), as an alluring woman in the historical melodrama The Devil is a Woman (1935), and as an exotic South Seas vamp/entertainer in Seven Sinners (1940)


GRETA GARBO: bewitching, enigmatic, often tragic and desirable, in Anna Christie (1930) as an ex-prostitute, in Mata Hari (1931) as the infamous exotic WWI dancer/spy ultimately destroyed by her love of a young Russian, in Susan Lenox: Her Fall and Rise (1931) as an on-the-run fallen woman, in the historical costume drama Queen Christina (1933) as a self-exiled Swedish queen, in Anna Karenina (1935), and as a dying courtesan in the suffering romantic love film Camille (1936)


JOAN CRAWFORD: glamorous and often fashionable, as a decadent flapper hurt by the Stock Market Crash in Dance, Fools, Dance (1931), as a struggling wronged prostitute in Rain (1932), in the vintage melodrama Sadie McKee (1934) as the sexy title character, in the historical costume drama The Gorgeous Hussy (1936) as Peggy O'Neal Eaton - Andrew Jackson's mistress, in the romantic dramas The Bride Wore Red (1937) and director Frank Borzage's Mannequin (1937), in Borzage's doomed romance The Shining Hour (1938) and in the mystical melodrama Strange Cargo (1940) as a trollop teamed with Clark Gable, and in A Woman's Face (1941) as a sullen, scar-faced blackmailing con. MGM's Grand Hotel (1932) starred both a financially-struggling, on the make stenographer Crawford and a tragically-radiant Garbo with Berlin's Grand Hotel as the backdrop for its anthology (portmanteau film) of intersecting lives of different characters.


JEAN HARLOW: a platinum blonde sexpot appearing as a smart-aleck vamp in pre-Hays Code productions, in films such as in Howard Hughes' WWI war drama Hell's Angels (1930) - the film with her famous question: "Would you be shocked if I changed into something more comfortable?", the steamy classic Red Dust (1932) where she played a stranded prostitute on an Indochinese rubber plantation run by loutish Clark Gable, as an indiscreet, trashy home-wrecking gold-digger (with her blonde hair dyed red) in Red Headed Woman (1932), as a Broadway song and dance showgirl in Reckless (1935), as a tough, questionable woman who ends up pregnant in a reform school in Hold Your Man (1933), and as a working girl who is again pregnant and jailed in Riffraff (1935).
Maternal Melodramas: Definitive Examples
Maternal melodramas featured plots with sacrificial, selfless mother-loving figures who suffered hardships. They were a popular tearjerker (or 'soaper') sub-genre requiring multiple hankies to make it to the emotional finales. Maternal characters were cruelly neglected and scorned by their children, or separated from their children for any number of causes (social pressures to give up the child, financial destitution, scandal or a moral lapse, etc.). However victimized, they would often become heroines by sacrificing themselves for their children.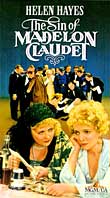 Many exceptional films are noted for being definitive, mother-love 'weepies':
Best Actress Oscar-winning Helen Hayes (in her first film role) as a devoted, all-suffering heroine toward her child born out of wedlock (Robert Taylor), by becoming a street-walker in the early The Sin of Madelon Claudet (1931)


the emotional telling of Fannie Hurst's story of a widowed mother (Claudette Colbert, Lana Turner) and a black maid (Louise Beavers, Juanita Moore) who both have problems with their love-starved and troubled daughters (Rochelle Hudson, Fredi Washington; Sandra Dee, Susan Kohner) - one of whom is light-skinned, in John Stahl's restrained Imitation of Life (1934) and Douglas Sirk's glamorized, ultra-emotional version Imitation of Life (1959)


King Vidor's Stella Dallas (1937) with a self-sacrificing, adoring, poverty-stricken mother Stella (Barbara Stanwyck) giving all for her daughter Laurel (Anne Shirley) in the film's heart-breaking finale in the rain; also director Henry King's popular silent soaper Stella Dallas (1925) starred Belle Bennett


Edmund Goulding's soap opera That Certain Woman (1937) with Bette Davis as a sacrificial wife and mother after an annulled marriage to Henry Fonda (this was a remake of the silent film The Trespasser (1929), starring Gloria Swanson - in her first talkie)


another collaboration between Bette Davis and Edmund Goulding - with Davis as an embittered, long-suffering 'old maid' spinster - and unwed mother who gives up her illegitimate daughter to be raised by her selfish, married and childless cousin (Miriam Hopkins) in the superb The Old Maid (1939)


in Edmund Goulding's The Great Lie (1941), newly-widowed Bette Davis aids her husband's pregnant ex-wife (Mary Astor) in bearing and then raising the child


Best Actress Oscar-winning Olivia de Haviland as a loving mother who selflessly gives up her illegitimate son (conceived with a WWI fighter pilot who dies in battle before they can marry) for adoption and then becomes her son's 'aunt' without revealing the truth in To Each His Own (1946)


the melodramatic film-noir classic Mildred Pierce (1945) starred Best Actress Oscar-winner Joan Crawford (who took the role that had been rejected by both Davis and Stanwyck) as a hard-working, excessively-devoted, long-suffering divorcee/mother for her spoiled, murderous daughter Veda (Ann Blyth)