Fantasy Films: Unlike science fiction films that base their content upon some degree of scientific truth, take the audience to netherworld, fairy-tale places where events are unlikely to occur in real life. In mythological or legendary times, they transcend the bounds of human possibility and physical laws. Fantasy films are often in the context of the imagination, dreams, or hallucinations of a character or within the projected vision of the storyteller. Fantasy films often have an element of magic, myth, wonder, escapism, and the extraordinary. They may appeal to both children and adults, depending upon the particular film.
See AFI's 10 Top 10 - The Top 10 Fantasy Films
See also separate article on Super-Heroes on Film
In fantasy films, the hero often undergoes some kind of mystical experience, and must ask for aid from powerful, superhuman forces on the outside. Ancient Greek mythological figures or Arabian Nights-type narratives are typical storylines. Flying carpets, magic swords and spells, dragons, and ancient religious relics or objects are common elements. Bizarre and imaginary, invented lands include sci-fi worlds, unreal worlds, fairy tale settings, or other whimsical locales (e.g., Shangri-La or Brigadoon). The earliest sci-fi writers (H. G. Wells and Jules Verne) created fantastic worlds and/or journeys - the subject matter of many fantasy films.
Typically, the predominant characters in fantasies are princes or princesses. Some fantasy-type films might also include quasi-religious or supernatural characters such as angels, lesser gods, or fairies. Or they include the gnomes, dwarves and elves of legend.
Odd phenomena, physical aberrations, and incredible characters (sometimes monstrous characters that represent the divine or evil spirits, or fabulous magicians and sorcerers) are incorporated into fantasy films, and often overlap with supernatural films. They are often inspired or taken, however remotely, from myth or legend. They fill us with a marvelous sense of awe and touch off deep primal emotions.
Fantasy films are most likely to overlap with the film genres of science fiction and horror. When the narrative of a fantasy film tends to emphasize advanced technology in a fantastic world, it may be considered predominantly a science fiction film. Or when the supernatural, fantasy forces are specifically intended to frighten the audience, a fantasy film falls more within the horror genre.
Early Fantasy Films: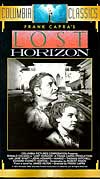 Over the years, the subject of fantasy has thoroughly entertained us. The earliest fantasy films combined science fiction with visions of the future. Some of the earliest were Georges Melies' fantasy silent film about a trip to the Moon, Voyage Dans La Lune (1902), Fritz Lang's expressionistic Metropolis (1927, German) with a nightmarish view of toiling urban workers, and producer Alexander Korda's Things to Come (1936). Director Merian C. Cooper's great prehistoric fantasy film King Kong (1933) took viewers to Skull Island with a fearsome hairy Beast created by Willis H. O'Brien's marvelous stop-motion animation. Frank Capra's wonderful philosophical romantic fantasy Lost Horizon (1937) brought a group of plane crash survivors to the fabled and idyllic Shangri-La hidden within a snowy Tibetan mountain pass. Comic strip hero Flash Gordon (Buster Crabbe), with his love interest Dale Arden (Jean Rogers), was the subject of many serialized, multi-part films, including Flash Gordon: Flash Gordon's Trip to Mars (1938).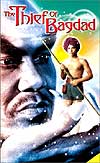 Of course, the greatest children's fantasy/musical of all time was The Wizard of Oz (1939), a journey down the yellow-brick road to the colorful Land of Oz. Producer Alexander Korda's dazzling Technicolor, costume fantasy adventure, the multi-Oscar winning The Thief of Bagdad (1940, UK) - masterfully retold the Arabian Nights tale (of the land of magic carpets) featuring a giant genie and an evil vizier. The frightening story of a man who wished for eternal youth, another type of fantasy film, was The Picture of Dorian Gray (1945) - a stylishly-sophisticated twist to the Dr. Jekyll and Mr. Hyde tale.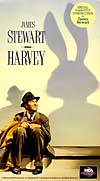 British director Michael Powell's and writer/producer Emeric Pressburger's romantic fantasy Stairway to Heaven (1946) (aka A Matter of Life and Death) with David Niven as a aviation casualty in debate with Heavenly and Earthly powers. Jean Cocteau's lyrical and romantic French film La Belle et la Bete (1946) (aka Beauty and the Beast), adapted from an 18th century fairy tale, featured a repellent Beast and a beautiful woman. In Frank Capra's It's a Wonderful Life (1946), suicide-threatening James Stewart is aided by an endearing angel named Clarence (Henry Travers). The whimsical, comical film Harvey (1950) also starred James Stewart as an inebriated man who has an imaginary over-six-foot-tall rabbit as his companion. And Vincente Minnelli's lyrical musical fantasy Brigadoon (1954) told the fanciful legendary tale of a Scottish village of the same name where the inhabitants awakened only once every 100 years.
George Pal - Special Effects Wizard: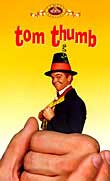 Both George Pal and Ray Harryhausen created and designed some of the best stop-motion animation and special effects in many great fantasy films that combined animation with live action. Producer George Pal won his first Special Effects Academy Award for his work on the sci-fi fantasy/adventure film Destination Moon (1950). He also won Best Visual (Special) Effects Oscars for the exciting, low-budget sci-fi disaster film When Worlds Collide (1951) and the alien-invasion film The War of the Worlds (1953). Finally, Pal succeeded with MGM's musical fantasy of the Grimm's fairy tale Tom Thumb (1958), his first directed film, winning his fourth effects Oscar.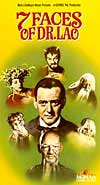 Pal's next directorial effort was for an adaptation of H.G. Wells' book, the visual effects Oscar-winning fantasy adventure The Time Machine (1960), with Rod Taylor as the curious time traveler to the year 802,701 - a world populated by gentle Elois and hideous Morlocks. In his later career, Pal was also involved in the three-panel "Cinerama" feature fairy tale The Wonderful World of the Brothers Grimm (1962) with a dancing princess, elves and a fire-breathing dragon, and 7 Faces of Dr. Lao (1963) a fantasy comedy-western about a mysterious, traveling medicine-show showman (Tony Randall) who changes himself into such varied 'faces' as Medusa, Merlin the Magician, the Abominable Snowman, and a Talking Serpent.
Ray Harryhausen - Special Effects Wizard: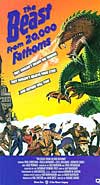 Mainstream live-action adventure fantasies, highlighted by special effects from Ray Harryhausen (a protege of early stop-motion animator Willis O'Brien - the creator of King Kong), featured grotesque giant monsters, fabulous Greek mythological, or medieval Arabian figures. One of Ray Harryhausen's earliest films included work with O'Brien to animate Mighty Joe Young (1949). He also contributed to Warner Bros.' prehistoric fantasy The Beast from 20,000 Fathoms (1953), a pre-Godzilla monster story with a rhedosaurus threatening New York City. He also contributed to a string of 50s sci-fi fantasy film successes as special effects wizard for It Came From Beneath the Sea (1955) with a giant radioactive octopus, Earth vs. the Flying Saucers (1956) with flying saucers that destroy the US capital in the spectacular finale, 20 Million Miles to Earth (1957) with a threatening reptilian creature threatening Italy, and the great fantasy adventure of all time - The 7th Voyage of Sinbad (1958), featuring the rescue of a miniature princess (Kathryn Grant) by a handsome prince (Kerwin Mathews) on his seventh voyage, a young genie and many stop-motion animated figures (a Cyclops, a dragon, a snake-woman, and a sword-battling skeleton - the first of his skeletal warriors).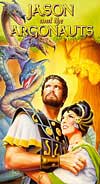 Harryhausen proceeded with a fantasy adaptation of Jonathan Swift's The 3 Worlds of Gulliver (1959) about Lemuel Gulliver (Kerwin Mathews) - a globe-traveling adventurer who visits both the tiny world of Lilliput and the giant world of Brobdignag, an adaptation of Jules Verne's oft-filmed Mysterious Island (1959) about the ballooning journey of escaped convicts to an uncharted island inhabited by a giant crab and a mysterious Captain Nemo of the Nautilus, the classic mythological fantasy Jason and the Argonauts (1963), with the title character searching for the Golden Fleece while confronting clashing rocks, a 7-head Hydra, a walking Talos statue, and an army of sword-wielding skeletons!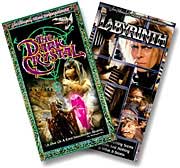 More Harryhausen films in the mid-60s included another H.G. Wells adaptation The First Men in the Moon (1964), about a space trip to the lunar surface (with an alien civilization) and back, the fantasy The Valley of Gwangi (1969) - with a giant prehistoric monster unearthed by an archaeologist, the second and third films in the Sinbad series with more fantastic creatures: The Golden Voyage of Sinbad (1974) and Sinbad and the Eye of the Tiger (1979), and the more recent mythological fantasy Clash of the Titans (1981) - with a memorable snake-haired Gorgon-Medusa, a Cyclops, and the winged horse Pegasus.
Frank Oz and Jim Henson - Muppets Puppets:
With Jim Henson, Frank Oz directed The Dark Crystal (1982), a delightful children's fantasy tale with Muppets. Henson also directed the George Lucas-produced Labyrinth (1986) starring teenaged babysitter Jennifer Connelly in an enchanted land inhabited by Henson's Muppets (as monsters), trying to solve a fantastic, challenging maze in order to rescue her baby brother from the evil Goblin King (David Bowie). The last film produced by Jim Henson was British director Nicolas Roeg's adventure-fantasy The Witches (1990) - adapted from Roald Dahl's novel of the same name, with trademark special effects through animatronics, and Anjelica Huston as a frightening Grand High Witch that threatens to turn two young boys into mice at a seaside hotel convention of witches.