Featured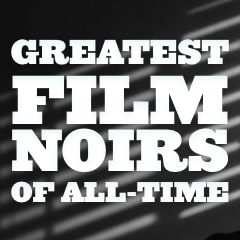 The 100 Greatest Film Noirs of All-Time:
Filmsite presents the 100 Greatest Film Noirs in two categories:
60 Classic Film Noirs (1940-1958)
40 Greatest Neo-Noirs or Post-Noirs (1958 and after)
The term "Film noir" (literally 'black film" or "black cinema') was coined by French film critics (first by Nino Frank in 1946) who noticed the trend of how 'dark', downbeat and black the looks and themes were of many American crime and detective films released in France to theatres during and following World War II. A wide range of films reflected the resultant tensions and insecurities of the time period, and counter-balanced the optimism of Hollywood's musicals and comedies.
Film noirs have recently been released in the modern era and have been refashioned for present-day sensibilities. A number of them in the 60s-70s were hard-boiled policeman-hero films that contained film noirish characteristics. Most neo-noirs attempted to re-establish the moods and themes of classic noirs. So-called post-noirs (modern tech-noirs, neo-noirs, or cyberpunk) appeared after the classic period with an attempt to revive the themes of classic noir, although they portrayed contemporary times and were often filmed in color.
>> See also Introduction to Film Noir, Greatest Femmes Fatales in Classic Film Noir, Classic Film Noir Title Screens (1940-1958)