Romance Films: Romance films are love stories, or affairs of the heart that center on passion, emotion, and the romantic, affectionate involvement of the main characters (usually a leading man and lady), and the journey that their love takes through courtship or marriage. Romance films make the love story or the search for love the main plot focus. Oftentimes, lovers in screen romances (often romantic dramas) face obstacles and the hazards of hardship, finances, physical illness, racial or social class status, occupation, psychological restraints, or family that threaten to break their union and attainment of love. As in all romantic relationships, tensions of day-to-day life, temptations (of infidelity), and differences in compatibility enter into the plots of romantic films.

Romantic films often explore the essential themes of love at first sight, young (and older) love, unrequited love, obsessive love, sentimental love, spiritual love, forbidden love, sexual and passionate love, sacrificial love, explosive and destructive love, and tragic love. Romantic films serve as great escapes and fantasies for viewers, especially if the two people finally overcome their difficulties, declare their love, and experience life "happily ever after" - implied by a reunion and final kiss.

Many romantic films do not have fairy-tale, wistful-thinking stories or happy endings, although love serves as a shield against the harshness of the real world. Although melodramas-tearjerkers and romantic comedies may have some romance in their plots, they usually subordinate the love element to their primary goal - to provide humor or serious drama.

In mid-June 2002, the AFI selected America's "100 Greatest Love Stories" - these 100 films were "the complex, cinematic tales of the heart that have become an abiding part of American film history."
See this site's information on AFI's 100 Years...100 Passions

For a steamier, hotter, and more erotic selection of romantic films, please see
Filmsite's description of Sexual/Erotic Films and also
Filmsite's Most Memorable Film Kisses of All Time in Cinematic History

The Earliest Romance Films:

Even films from the earliest days of silent cinema combined romance, fantasy, and sex, as in the following films:
Thomas Edison's early, 20-second long The May Irwin Kiss (1896) (aka The Kiss, or The Irwin-Rice Kiss) was the most popular Edison Vitascope film in 1896; it has been noted as the first filming of a couple's kiss that was recreated from the two well-known stage actors' performance in the hit Broadway play The Widow Jones; many considered it scandalous to view two physically-unattractive people magnified on the screen during an extended kiss
Alexandre Dumas' famous story of a Parisian courtesan, Camille (1915), with Clara Kimball Young, was remade in the silent era in 1917 (with Theda Bara), in 1921 (with Alla Nazimova and Rudolph Valentino), and in 1927 (with Norma Talmadge)
D.W. Griffith's Intolerance (1916) was subtitled, "Love's Struggle Throughout the Ages," and in one of its four stories featured unrequited love between animal skin-wearing, onion-eating Mountain Girl (Constance Talmadge) and Babylonian Prince Belshazzar (Alfred Paget)
glamorous Gloria Swanson became a star in Cecil B. DeMille's romantic fable Male and Female (1919), that was based on James M. Barrie's 1902 play "The Admirable Crichton" about class distinctions; the film was noted for the actress' famous risque bathtub scene
the Lon Chaney version of The Hunchback of Notre Dame (1923) - a tragic tale of love between a deformed bellringer named Quasimodo and gypsy dancer Esmeralda (Patsy Ruth Miller)
Raoul Walsh's Sadie Thompson (1928) was the first film version of Somerset Maugham's classic novella about a loose-morals San Francisco prostitute (Academy Award-nominated Gloria Swanson) and a moralistic preacher/missionary (Lionel Barrymore) on the South Sea tropical island of Pago-Pago; another version titled Rain (1932) from director Lewis Milestone starred Joan Crawford and Walter Huston
the beautiful actress Corinne Griffith starred as a destitute, wide-eyed, and naive showgirl in Milestone's silent romantic comedy The Garden of Eden (1928)
Rudolph Valentino: The Latin Lover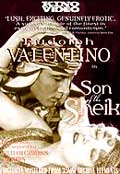 Two of the most prominent characters in silent romantic films were sexually-dangerous and vixenish - epitomized by Rudolph Valentino and Theda Bara. The sexually-appealing, charismatic Valentino was dubbed the "Latin Lover" after an illicit tango dance in The Four Horsemen of the Apocalypse (1921). The exotic star would also appear in a number of dramas, including Blood and Sand (1922) as a bullfighter, Cobra (1925) as a notorious ladies man, and The Eagle (1925) as a Russian cossack. He became a box-office male superstar with his portrayal of a dashing Arabian sheik named Ahmed in a few silent melodramas/costume adventures:
The Sheik (1921) with co-star Agnes Ayres
Son of the Sheik (1926) with co-star Vilmy Banky
Valentino's untimely death in 1926 at age 31, due to a perforated ulcer and complications of peritonitis, led to an outpouring of grief from legions of female fans for the heart-throb actor at his NY funeral.

Theda Bara: The Vamp
Ohio-born Theodosia Goodman was an unsuccessful stage actress (with the name Theodosia de Coppett) until she changed her name to Theda Bara (Baranger was her maternal grandfather's last name) for Fox Studios in 1914. [Theda Bara was an anagram for "Arab Death."] She instantly became a major star in her first starring role as an exotic, sexually-aggressive femme fatale vamp character - in Frank Powell's melodramatic A Fool There Was (1914) (also remade in 1922). She was noted for her seductiveness and her often-repeated catchline request, "Kiss Me, My Fool," and thereby became the first movie sex symbol. Only a few of her many films survive to the present day (complete prints of her most famous films - Cleopatra (1917) and Salome (1919), are non-existent).
Famous Screen Couples:
Garbo and Gilbert -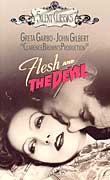 Two of the earliest romantic (or quasi-erotic) screen couples in the silent era were the seductively-beautiful, beguiling and bewitching Greta Garbo and her handsome screen counterpart John Gilbert, two MGM stars who first appeared together in Flesh and the Devil (1926) with three artistically-lit extended sensual love scenes. Reportedly, they had Hollywood's first French (open-mouthed) kiss on screen in a shadowy garden scene, and the first-ever horizontal-position kisses in an American film. Garbo and Gilbert continued to carry on a passionate romance both on- and off-screen. They also went on to make a loose adaptation of Tolstoy's Anna Karenina titled Love (1927). The film's original title was changed from Heat, due to the awkward marketing that would have developed (Gilbert and Garbo in 'Heat'). Soon after, they were paired in MGM's melodramatic silent film A Woman of Affairs (1928), the story of a tragic love affair for a fallen woman. [Later, Garbo's three greatest romantic films were Queen Christina (1933), Camille (1936) with the luminous actress as a dying Parisian courtesan in love with a young nobleman (Robert Taylor), and Ninotchka (1939).]
Gaynor and Farrell -
Another famous screen couple, dubbed "America's Lovebirds," were romantic film stars Janet Gaynor and Charles Farrell, eventually paired together in twelve films. Their first film was Fox's Seventh Heaven (1927) with the popular theme song "Diane" - here was a classic romantic melodrama set at the start of the Great War from talented romantic director Frank Borzage. For their work in Seventh Heaven, Gaynor received the first "Best Actress" Academy Award and Borzage received the first "Best Director" Academy Award. An inferior remake was made in 1937.
Gable and Crawford -
The romantic teaming of Gilbert and Garbo, and the vampishness of Theda Bara was replaced by the arrival of new, sexy and romantic lead superstars at MGM in the 1930s, typified by Clark Gable and Joan Crawford. (They were also romancing each other off and on-screen at the time.) Their eight films together included the following:
Laughing Sinners (1931), with Gable as a Salvation Army officer rescuing nightclub entertainer Crawford after she was seduced by a traveling salesman
Dance Fools Dance (1931) with Crawford as a determined crime reporter and Gable as a bootlegging gangster
The Possessed (1931) with Crawford as the mistress of Gable's NY attorney
Dancing Lady (1933) a grand backstage musical drama with Crawford as a young hopeful dancer, Gable as a Broadway musical producer - and little-known Fred Astaire in his film debut
Chained (1934) a sexy potboiler with the stars caught in a love triangle
Forsaking All Others (1935), a screwball comedy about marriage
Love on the Run (1936), an escapist romantic comedy co-starring Franchot Tone (Crawford's real-life husband at the time) as a rival journalist to Gable, released as a response to Columbia's Oscar-winning It Happened One Night (1934)
Frank Borzage's Strange Cargo (1940) with Gable as a convict on Devil's Island and Crawford as his loose girlfriend
Jean Harlow: The Original Blonde Bombshell
Wise-cracking, sassy, 'platinum blonde' Jean Harlow, one of the original screen sirens, gave memorable, sensual performances in a number of salacious dramas and lightweight romantic comedies, including the following:
Hell's Angels (1930), a Howard Hughes-directed film, with Harlow as the sensual love interest of two WWI ace fliers; noted as the film where she spouted, in a slinky dress: "Would you be shocked if I put on something more comfortable?"
Platinum Blonde (1931), a Frank Capra romantic comedy with Loretta Young and Harlow as a socialite heiress; this film provided Harlow with her nickname
The Public Enemy (1931), in a bit role as gangster James Cagney's short-term moll interest
Red-Headed Woman (1932), a Victor Fleming romantic drama, with Harlow as a manipulative gold-digger
Red Dust (1932), as a chattering, libidinous prostitute, stranded and flirtatious with rugged Indo-Chinese rubber plantation overseer Clark Gable; this is the second of six films that Harlow made with Gable
George Cukor's Dinner at Eight (1933), a famous role as Kitty Packard, the chocolate-loving, bleached-blonde, tough-talking, trashy, social-climbing trophy wife of tycoonish financier Dan Packard (Wallace Beery)
Victor Fleming's comedy Bombshell (1933), with Harlow as a sexy, guileless movie star named Lola Burns - the "If" Girl (based on Clara Bow's "It" Girl) who longed to settle down (a reflection of Harlow's real-life situation)
The Girl From Missouri (1934), noted as the first of Harlow's films to be granted the Production Seal of Approval, with Harlow as a gold-digging young woman named Eadie Chapman who was searching for a millionaire husband; the original title of the film, Born to Be Kissed, was censored
China Seas (1935), as China Doll, the mistress of Clark Gable - the Captain of a storm-tossed tramp steamer between Singapore and Hong Kong
Reckless (1935), another Victor Fleming film, a tragic romantic melodrama based on the life of Broadway singer-performer Libby Holman; this film was Harlow's top-grossing film to date
Libeled Lady (1936), a classic screwball comedy with a complex plot of romantic complications
Saratoga (1937), Harlow's last, uncompleted film (her 36th film over a 10-year period)
Tragically in June of 1937, she died (at the age of 26) of uremic poisoning (and kidney failure) during filming with Gable (her sixth film with him).
Classic Romantic Comedies: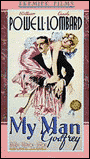 Classic screwball romantic comedies of the 30's and 40s had involving zany plots, unlikely romances or interesting pairings, and rapid-fire dialogue. [See the section on screwball comedies for additional information.] Representative films included, among others:
It Happened One Night (1934), Frank Capra's classic, award-winning romantic cross-country trip and emerging mismatched romance between a street-smart reporter (Clark Gable) and spoiled heiress (Claudette Colbert)
My Man Godfrey (1936) with William Powell as a down-and-out bum hired as a suave, redemptive butler for the well-heeled but wacky Bullock family in Manhattan, including the scatter-brained and zany heiress-daughter Irene (Carol Lombard)
Mr. Deeds Goes to Town (1936), Frank Capra's tale of a developing romance between a newly-rich hick (Gary Cooper) and a tabloid journalist (Jean Arthur)
The Awful Truth (1937), with Cary Grant and Irene Dunne as a separated high-society couple - who after lots of squabbling, romantic sabotage, and a custody battle (for their dog) ultimately realized their true love for each other
Nothing Sacred (1937), in which Vermont woman Hazel Flagg (Carole Lombard) believed to be dying from fatal radium exposure - a sensational hoax of her own doing - was interviewed, entertained, and wined/dined by a slick tabloid NYC reporter (Fredric March)
Stage Door (1937), featuring the female camaraderie of a group of aspiring actresses living together, including Katharine Hepburn and Ginger Rogers
Bringing Up Baby (1938), Howard Hawks' frantic, slapstick tale of the courtship between a straight-laced museum paleontologist (Cary Grant) and a zany heiress (Katharine Hepburn), with complications due to a pet leopard named 'Baby'
Holiday (1938), George Cukor's comedy about an anti-materialistic Cary Grant with plans to marry socialite Doris Nolan, but when rejected by her conservative father, falls in love with her black-sheep younger sister (Katharine Hepburn)
Made for Each Other (1939), a comedic romantic drama of the real-life marital travails (financial and interfering in-laws) of a recently-married couple (James Stewart and Carol Lombard)
Midnight (1939), a witty and sophisticated romantic comedy about marital conflicts, in a story about a penniless and struggling young showgirl (Claudette Colbert) in Paris who was paid to impersonate and masquerade as a Hungarian countess
Ninotchka (1939), Ernst Lubitsch's wonderful film in which "Garbo Laughs"; the frothy tale of how a stern and unsmiling Russian agent (Garbo) was softened for love by a playboy Count (Melvyn Douglas) in the City of Lights
His Girl Friday (1940), Howard Hawks' rewritten version of The Front Page (1931), with lightning-paced dialogue and a love-hate relationship between a divorced and estranged couple (newsman Cary Grant and star reporter Rosalind Russell)
My Favorite Wife (1940), a marital farce in which widower Cary Grant's recent marriage to Gail Patrick was jolted when his presumed dead wife (Irene Dunne) appeared after spending seven shipwrecked years on a desert island with a handsome and virile scientist (Randolph Scott)
The Philadelphia Story (1940), from George Cukor, the witty romantic entanglements between suitors Cary Grant, James Stewart, and spoiled socialite Katharine Hepburn
The Shop Around the Corner (1940), Ernst Lubitsch's sentimental film of the anonymous, pen-pal romantic relationship between bickering, lonely-hearts shop-clerks James Stewart and Margaret Sullavan in old Budapest
Ball of Fire (1941), Howard Hawks' film about a group of seven stuffy professors (one of whom is a gawky Gary Cooper) who were tutored in slang by a fast-talking dame/moll (Barbara Stanwyck) on the run - a twist on the Snow White and the Seven Dwarfs story
The Lady Eve (1941), Preston Sturges' intelligent, farcical romantic tale of how a gold-digging, conniving con-artist (Barbara Stanwyck) fell in love with her target - a snake-loving, hapless, gullible brewery heir (Henry Fonda)
The Palm Beach Story (1942), another ludicrous Preston Sturges classic about the war between the sexes, this time between an idealistic inventor/architect (Joel McCrea) and his pragmatic beautiful wife (Claudette Colbert) during a soul-searching trip to get a divorce in Florida
The Talk of the Town (1942), George Stevens' comedy about a man (Cary Grant) falsely accused of murder and hiding out in the country home of a Harvard law professor (Ronald Colman) and his landlady (Jean Arthur)
The Farmer's Daughter (1947), with Loretta Young as a Swedish farm girl who challenged her servant/boss (Joseph Cotten) for his seat in Congress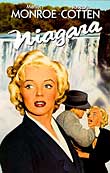 More romance could be found in the puppy-love affairs of Mickey Rooney in the Andy Hardy films of the late 1930s and 1940s.
Film Noirs: Destructive Romances
[See film noir genre section on various femme fatales and lethal romances.]
Two representative romance/noir films, taken from James M. Cain novels, The Postman Always Rings Twice (1946) and Double Indemnity (1944), were seething with lustful, self-destructive romantic relationships, between a femme fatale and an entrapped male partner (Lana Turner-John Garfield, Barbara Stanwyck-Fred MacMurray). In the twisted tale of infidelity and mystery by director Henry Hathaway, Niagara (1953), a sexy, scheming Marilyn Monroe plotted the murder of her unstable husband (Joseph Cotten) on their honeymoon at the falls.